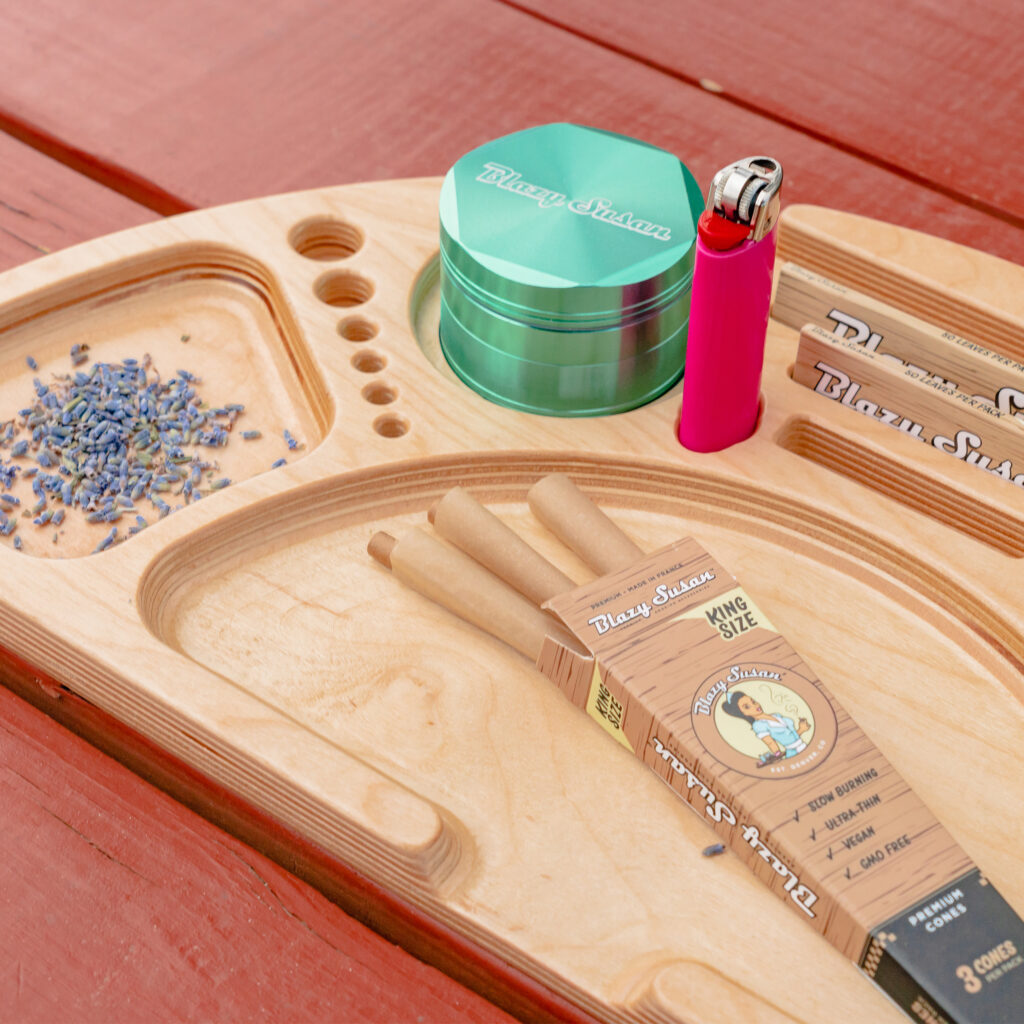 Blazy Susan is always looking to innovate and develop new ways to help our fellow
connoisseurs. Our signature Blazy Susan spinning rolling trays are perfect for your
coffee table, but they might take up too much room folks on-the-go. So, we decided
to build a compact version that offers the same organization of our spinning rolling
trays at half the size. We're excited to announce the newest iteration of our rolling
trays, the Half Moon Rolling Tray
Rolling trays are the perfect place to prepare your joints and bowls without creating
a mess. Rolling trays like the Spinning Blazy Susan and our new Half Moon Rolling
Tray have perfectly sized compartments for your smoking accessories to help you
stay neat and tidy. So, instead of spending 30 minutes looking for your lighter or
cleaning up crumbs, you get to enjoy your flower without any added stress. Staying
organized with a rolling tray also saves you money in the long run. Instead of wast–
ing extra shake or losing your expensive smoking accessories, rolling trays keep 
everything safe and secure right where you left it
Half Moon Rolling Tray Benefits
At half the size of our famous Spinning Rolling Tray, our Half Moon Rolling Trays are
perfect for smokers on-the-go or with limited space available. Featuring three areas
to break down herb, you have more than enough options to roll the perfect joint.
We've even invented a cone filling area for anyone who prefers to fill over rolling! At
half the size of our Spinning Rolling Tray, you'll have more than enough room for
tools, papers and even your phone / tablet to watch your favorite shows while you
roll up.
Our Half Moon rolling trays currently come in three colors: cherry, birch and black.
They are 18 × 9.375 × 0.875 in. in size and weight just a little of 1 and a quarter
pounds.
If you like our new Half Moon Rolling Trays, let us know! Tag us on social media and
show us your set up. With all the great organizational spaces within the new Half
Moon Rolling Tray, the possibilities are endless.