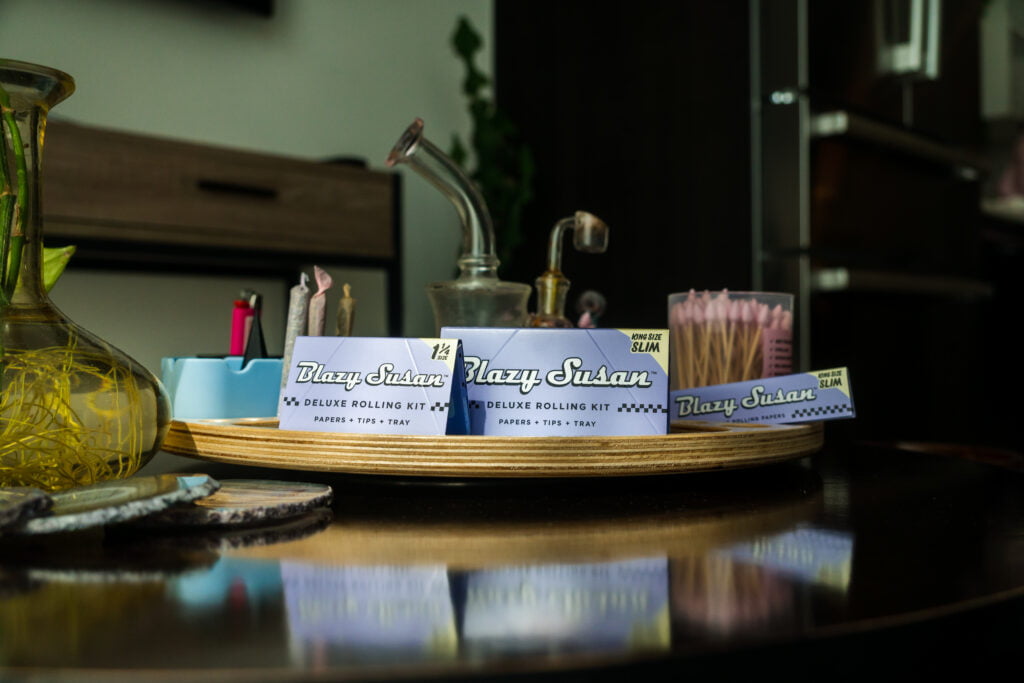 Here at Blazy Susan, one of the things we are known for around the world is our pink rolling papers. The Pink papers have been iconic over the years, specifically because they are organic, and non gmo, which translates to a smooth even burn of your rolled joint. Now, we are introducing our new line of rolling papers, our purple rolling papers and purple pre rolled cones.
Purple Rolling Papers and Pre Rolled Cones
Like our original pink and unbleached rolling papers, these purple rolling papers are 100% vegan and made with only the finest materials. That means our papers have zero animal byproducts or harmful chemicals. The purple rolling papers have minimal impact on the environment as well, when compared to conventional rolling papers. This all translates to a slow, clean burn where you can taste your herb, not the paper, just like our iconic pink rolling papers.
Why Purple Rolling Papers and Cones?
From the start, Blazy Susan has been all about community, and bringing together like-minded people helping them see they are not alone. That became the driving principle behind this new line of rolling papers. The main difference, besides the color, is the charity initiative behind purple. We're supporting mental health awareness and suicide prevention with the purple papers and cones. We want our community to know there are options out there, and it's ok not to be ok. That is why we are partnering up with a couple of different mental health organizations. We are happy to announce that we have partnered up with The Trevor Project. The Trevor Project provides information & support to LGBTQ young people 24/7, all year round.
Our purple rolling papers come in standard 1 ¼" or king size. King Size Rolling Papers are the perfect option when standard rolling papers just aren't big enough. We also carry purple rolling kits. The rolling kit pack comes with 32 of our King Size Papers, a stack of filter tip paper, and a built-in mini rolling tray! For those that are looking for a little more convenience, we also have our new purple pre rolled cone line as well. You can get an order of 6 or a full box, which has 126. We also have mini cones that are 53mm and come in a box of 252.
No matter which line of rolling papers you use of ours, we aim to provide superior rolling paper options for every smoker. If you would like to show off your support for mental health and suicide prevention, consider trying one of our purple rolling papers or cones. If you do try our papers, tag us with which one you decided to use on Twitter and IG @blazysusan! 
Browse Our Purple Rolling Papers and Pre Rolls