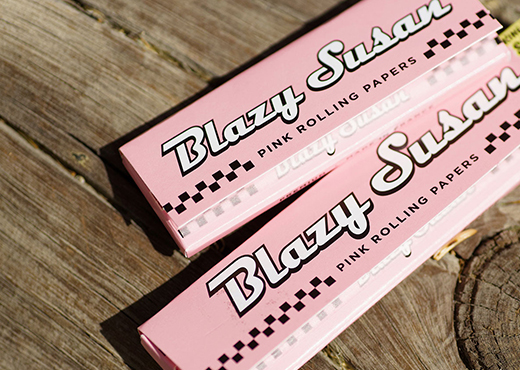 Veganism is a lifestyle movement that has taken the world by storm over the last few decades. It is estimated that as many as 79 million people worldwide identify as vegan, and many more have adopted vegan products and practices into their lives on a part-time basis. While many people only view the vegan lifestyle through the lens of diet, it can be much more all encompassing than that. A bevy of vegan products exist, from makeup and hair products to candles and home goods. Even devout vegans may not realize that another product they use in their daily lives has a vegan alternative as well – rolling papers!
Blazy Susan rolling papers are 100% vegan – most other rolling papers on the market can't say the same. While many rolling papers use animal byproducts in their glue or dye, Blazy doesn't use any whatsoever. Not only that, but Blazy Susan rolling papers are also completely chlorine and bleach-free, as well as non-GMO. This is just another reason why Blazy stands out from the crowd when it comes to clean, pure rolling papers.
You may be asking yourself – why does this matter? Why should I smoke vegan rolling papers?
There are actually a few good reasons why you should smoke vegan rolling papers.
No added chemicals or animal byproducts.
Many other rolling paper companies add chemicals, animal byproducts, and other undesirable stuff into their papers for a variety of reasons. Here at Blazy, we believe in providing you with the purest smoking experience possible. With no added chemicals, animal byproducts, or any other gross stuff, you'll experience more of what you're actually rolling in your joints, and less of the paper itself.
Better for the environment.
Eating vegan is often considered one of the biggest ways to reduce your environmental impact on the earth. By that logic, "smoking vegan" is undoubtedly better for the environment as well. By offering vegan papers, "carbon positive" products like our hemp plastic rolling tray, and partnering with environmental charity organizations such as One Tree Planted, Blazy Susan strives to have a net positive impact on the environment that we all share.
Cleaner smoking experience.
It's common sense that when you're rolling a joint, you want to smell and taste what's inside the rolling paper, not the paper itself. That's another reason why vegan papers offer a vastly superior smoking experience – they impart virtually no additional unwanted taste or scent into your jays. With no added animal byproducts or funky chemicals, Blazy Susan rolling papers offer an extremely pure and clean smoking experience (unlike many other paper brands on the market).
Whether it's our standard 1 ¼" papers or our world-famous pink pre rolled cones, ALL of our rolling papers here at Blazy Susan are vegan and non-GMO. Once you make the switch to vegan rolling papers, it's hard to go back – you'll taste the difference!
Sign up for our newsletter, The Blazy Bulletin (you can sign up from the bottom of our homepage)

Follow us on Instagram @blazysusan

Follow us on Twitter @blazy_susan

Like us on Facebook @blazysusan

Turn on post notifications on all three channels
Browse Our Rolling Papers and Pre-Rolled Cones