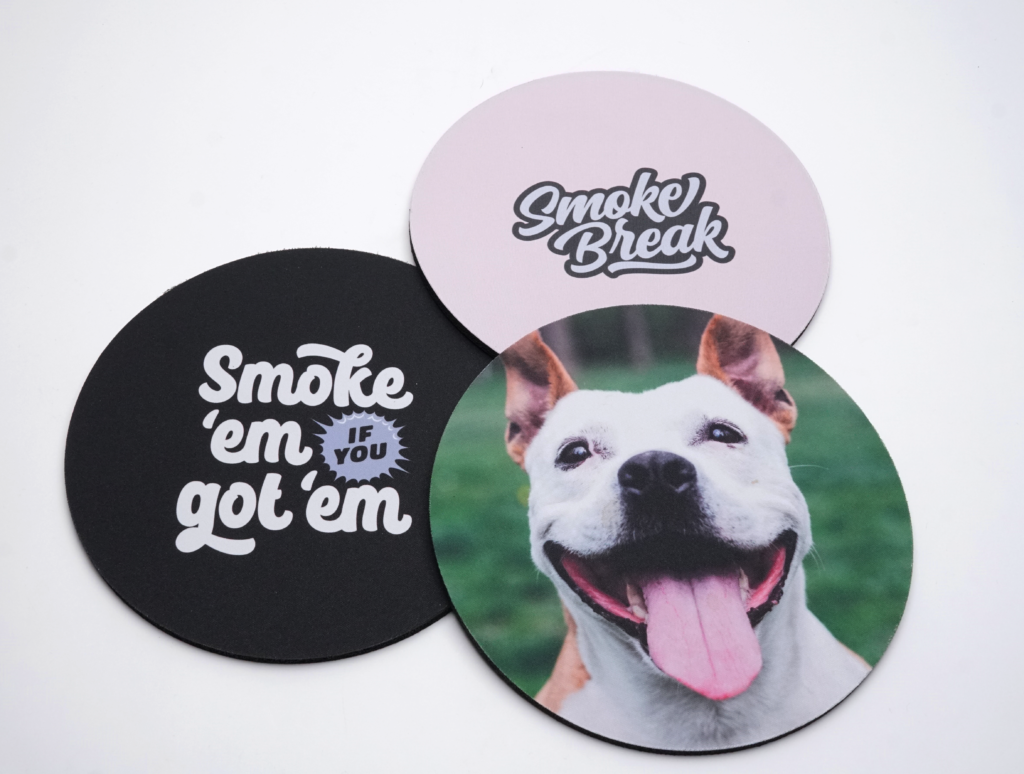 We at Blazy know dabbers are looking for new ways to customize their dabbing accessories to show off their personality and style. Because of that, we always strive to develop and test out new products that will elevate your dabbing experience. With that in mind, we are proud to announce the launch of our new custom dab pads! These customizable dab mats add a new layer of personalization and creativity to the Blazy Susan brand and your smoking area. Custom dab pads, or dab mats, allow you to customize your Blazy Susan Spinning Rolling Tray and Dab Tray with photos, your own design, or any image or graphic you can think of!
When you have a glass of liquid to quench that cotton mouth, you use a coaster before setting that glass down on a coffee table, right? Dab Matts are essentially a coaster for your dabbing rig. It's there to protect your service from sticky, hot concentrates that might fall to the surface. It also prevents your dab rig from sliding around on your surface, marring up your table and keeping your rig from crashing to the floor.
Customizable Dab Mats Allow You To Express Yourself
The customization of dab pads is just one of the latest ways Blazy Susan has pushed the boundaries of self-love and expression in the smoking space. Blazy Susan stands for equality and empowerment, we want to break down stigmas around cannabis and letting our fans create their very own dab mats is just one way we're pushing to normalize use of this plant. Whether you are proud of your pet and want to show them off or have a cool design you would like to use, the possibilities are almost endless. These make an amazing gift and we're already seeing some adorable wedding and anniversary mats roll off the printer. Any smoker in your life would be stoked to have one in their home!
How Do I Customize My Dab Pad?
You can customize your dab pad by heading over to our custom dab pad page. There you can upload your image. We print your custom pad in-house to your exact specifications, so you know you're getting exactly what you've ordered. If there are any issues with the file you submit, we'll reach out directly and make sure it's perfect before it leaves our shop.
Fits Inside a Blazy Susan
Our neoprene dab mats are 8 inches in diameter. That means they can fit perfectly inside a Blazy Susan Rolling Tray or Dab Tray! Combining a customized dab pad with a Blazy Susan would be an awesome conversation starter on a coffee table. Our spinning rolling tray also helps keep areas neat, clean, and organized by storing pipes, bowls, dab tools, and more in separate compartments. If you're short on space, give our Dab Tray a try for lots of storage options in a more compact package. Gone are the days of paraphernalia scattered across the table. Blazy Susan can organize all products in one clean space, now with your very own image in the middle.
Made By Dabbers for Dabbers
One of the most important things to note is that all our dabbing accessory products are made by dabbers for dabbers. For many smokers, using concentrates is the best way to relax, medicate and get a buzz. We respect that. That is why we test and use our products so that we know we are putting out only premium quality dabbing accessories. 
When you get your custom dab pad, throw up a pic on social media with #blazygang.  Show off to the world how you like to customize your dab pad!