Innovative Spinning Rolling Tray Design
The Cherry Blazy Susan Spinning Rolling Tray features an innovative design with small compartments for all different types of smoking accessories and supplies including lighters, pre rolls, bangers, your cell phone, and more. This tray was built from the ground up through consumer feedback and has more functionality than any other rolling tray on the market. The Blazy Susan Spinning Rolling Tray is truly revolutionary, and was built by smokers for smokers. Give it a spin – your coffee table will never be the same!The Blazy Susan is 15.5" in diameter and is constructed from high quality birch. It is hand finished with a fine Italian varnish to ensure a sleek and smooth rolling experience. Blazys make a perfect gift for any smoker, from casual to connoisseur.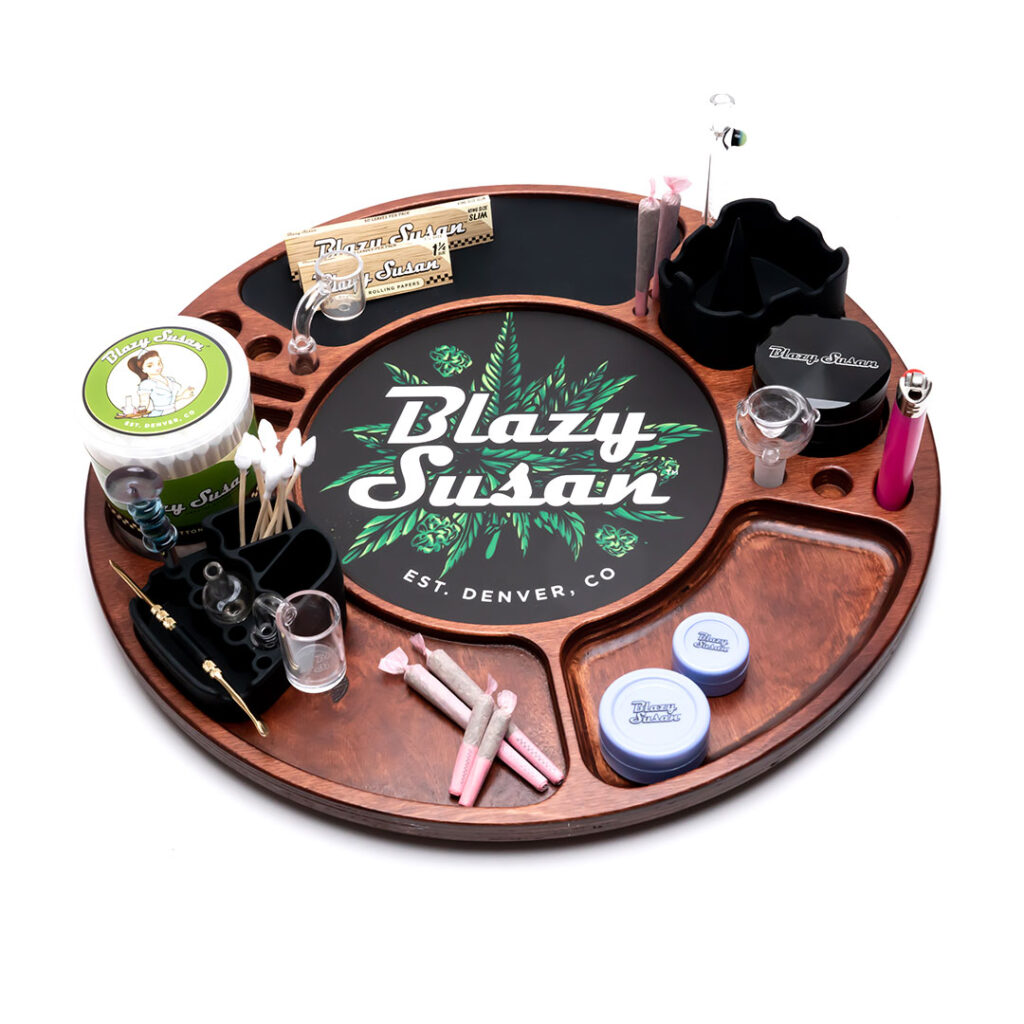 Hand-machined & sanded at our production facility in Denver, CO, the Blazy Builds team treats every tray with love & care. Each Blazy Susan is unique in its markings and patterns, clear-coated for longevity and easy rolling.
Our Birch (Clear), Cherry, Black, and Pink trays are made from high-quality birch wood. Birch has a white sapwood and light reddish brown heartwood. The wood is generally straight-grained with a fine, uniform texture, and is generally characterized by a plain, often curly or wavy pattern. The birch is a natural finish, while the black, pink, and cherry trays are stained before the clear-coat.
Our walnut blazy is made from walnut & clear coated to highlight the grain of the wood. Walnut wood is revered for its rich, dark color. Walnut wood features a fine, straight grain that's a bit coarse in texture and occasionally features knots or some irregularities possibly including some waves or curls.
We occasionally do small-batch offerings in premium hardwood.
We understand the need for privacy and stealth! Our packages come in plain, unmarked boxes or mailer bags with only a shipping label. The only reference to the brand is the return address name, "Blazy Susan".
For larger orders, we use recycled corrugated boxes.
For smaller orders, we use 100% Recycled Padded Mailers. These mailers have a pull tab on the back for easy opening. Be aware! If you rip this open in excitement like a regular bubble mailer, you may find a dusting of newsprint over your product and yourself.
Our mailers are 100% recycled content, made with 20% post-consumer waste. They are curbside recyclable, naturally biodegradable, lightweight & affordable. They are also tamper-evident and feature a self-seal adhesive closure.
We do not include packing slips to reduce extra paper going into the trash.
After you unwrap your package, we recommend recycling your mailer or box whenever possible.